In the Week 18 edition of fantasy baseball 3×3, we're rejoicing in the return of Collin McHugh, setting realistic expectations for Chris Tillman, and giving Christian Yelich his due.
There are plenty of waiver wire columns out there that provide an exhaustive list of the most added players in fantasy leagues. This isn't one of them. Here, we'll run down a few of the most interesting players for fantasy owners, with perspective on who deserves a your attention, who deserves your patience, and who deserves to go straight to bed without dessert.
Any questions, thoughts, trade deadline predictions? Hit me in the comments or on Twitter.
3 TO CATCH
Players to be picked up; available in most standard leagues
Collin McHugh | Houston Astros | SP
Collin McHugh's curveball is a thing of beauty, but it's not just pretty, it's arguably the most effective curve in the game. Only Adam Wainwright and Jesse Hahn can rival McHugh's bender in terms of movement and bat-missing ability. He spots it well and it's absolutely untouchable down in the zone.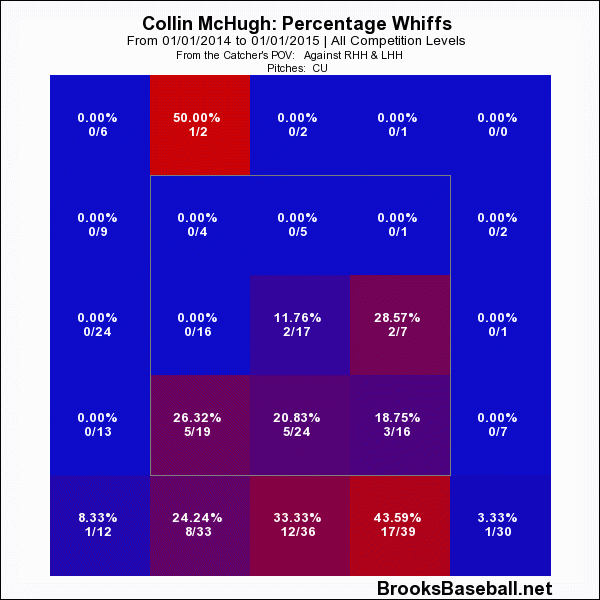 I'm just so glad to have him back. He was due for a bit of home run regression and although I didn't expect it to hit so hard in his first outing back, I'm fine with resetting expectations just a bit. I do believe that McHugh will outperform the 4.94 and 4.29 ERAs projected by ZiPS and Steamer, respectively; I expect he'll maintain something closer to his 3.63 FIP. Regardless, the strikeouts are not going anywhere. McHugh remains among the best in the league when it comes to missing bats and as long as that curveball is still around, that's not likely to change.
To pick him up, I'd drop: Chris Young, Danny Duffy, Clay Buchholz