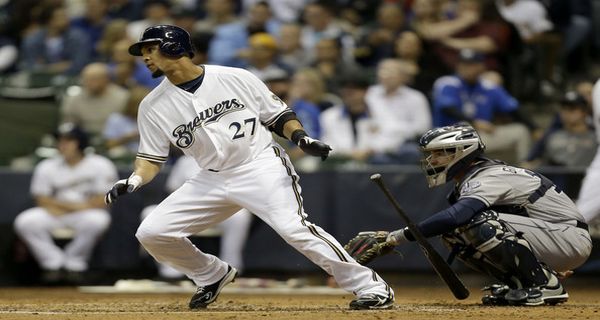 Note: All stats are as of Tuesday, September 23, 2014. 
Carlos Gomez was an interesting name during Draft Season. There were two camps, basically. One camp, of which I was a member, believed he was legitimate, and would more or less repeat; if his batting average faltered a little, his power/speed should pick him up. The other side believed his batting average wouldn't hold up, thanks to his free swinging ways, ultimately making him the option he was in 2012; a year in which he was still good, but not a borderline first round talent.
The former group won out. Gomez's batting average held, his on-base percentage improved, his power stayed basically the same, and his speed dipped a little. The weirdest part, though: no one has really talked about him unless they're talking about his "antics" on the field. Hell, I'm not even sure I've seen a Gomez highlight unless you count him yelling at Gerrit Cole. That's somewhat offensive, considering that outside of Chris Davis, who flopped miserably, he was the most questionable early round pick in the eyes of many. So, let's recap.
Read the rest of this article by logging in or purchasing The Fix's "Front Office" package
.