Thou shall not draft anyone #1 but Kevin Durant…until Anthony Davis lays waste to the NBA next year.
This one is very simple.
Don't look at any other player to take #1 in any format of fantasy NBA this year – whether it be Roto or H2H scoring or even in Dynasty/Keeper leagues – take Kevin Durant. The guy is a legitimate phenomenon, and while the premise of his fantasy strength is the scoring, his outlying stats are well above league average in nearly every category.
You don't find 32 points-per-game scorers all that much anymore, in fact his league-leading scoring mark last season was both a career high and the highest mark since Kobe's chucktacular 2005-06 when he chalked up a ridiculous 35.4 points per game. Factor in that he gives you better than average rebounds, assists and steals as well as elite threes, and you're looking at select company.
The list below is players who have put up a season averaging at least 20 points, 6 rebounds, 4 assists and 2x threes in the same season. Perhaps this should be called 'The Antoine Walker Club'?

The statistics that stand out are Durant's percentages – they are unparalleled now, and perhaps ever, in terms of sheer volume and efficiency when paired with his three point shooting. A few players in the list below can raise their hands for scoring at a similar clip with similar percentages as KD, but even fewer can sniff the 2.4 threes KD knocked down last year.
Durant repeated his performance from 2012-13 to produce another season with at least 25 points per game, 50% from the field and 80% from the line – pretty illustrious company considering the list over the last 30 years: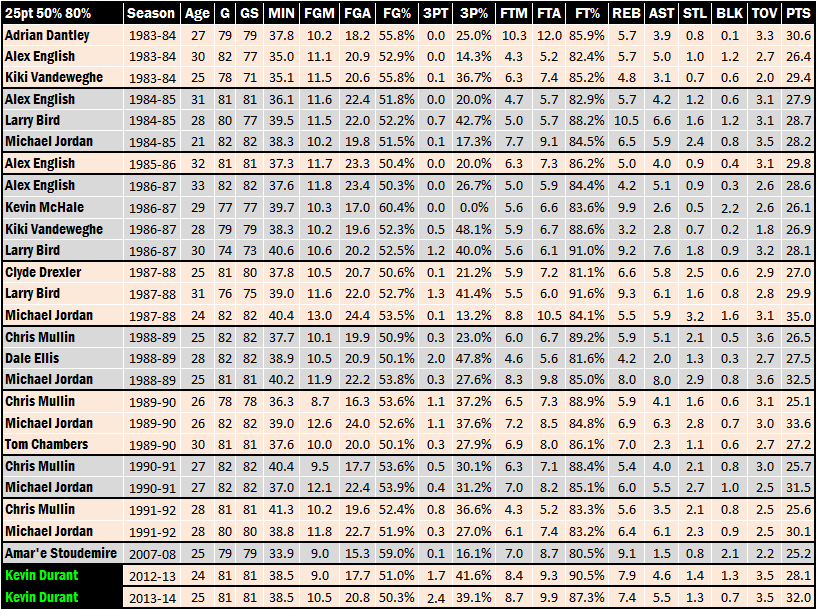 The list has only the greatest player of all time Michael Jordan, the greatest small forward of all time in Larry Bird (not yet LeBron!), and the uber efficient yet sometimes overlooked Chris Mullin, who made this club four consecutive seasons – tying with scoring machine Alex English for the second best streak behind Jordan, who did it for five straight from 1988-1992.
Durant's 'supporting cast' of stats are so good that you could halve his scoring and he'd STILL be better than Chandler Parsons (a solid top 40 player everyone can agree?) in basically every statistic. Same goes for Marc Gasol and Lance Stephenson. In fact, halve his scoring and compare him to players with similar 'across the board' statistics and you get the following list below:

I removed the FGM/FGA/FTM/FTA categories as they're clearly skewed and are basically a moot point when halving Durant's 32.0 points per game. You can see his other fantasy stats are still at the top or right behind the lead when compared to these versatile fantasy performers. People rightfully harped on about Lance's massive leap last year in reality and fantasy – which was as dramatic as it was funny along the way – but Durant has him beat in every single category except turnovers. The dude is a freak of nature.
How many players can you halve their 'best' attribute in fantasy NBA and they would still be a legit top 20 player? Not many. Basically there's Durant and LeBron. Which is why Durant at 25 years old is the Alpha Dog and there is no argument…
…This year.
Anthony Davis is looming large on the NBA and fantasy NBA will be one of the first columns to fall to his broad shoulders and mono-brow-lith sized talent.
Look at Davis' NBA sophomore stats compared to some of the great stat stuffers to play PF and/or C in the NBA (all stats from their sophomore NBA seasons, sorted by age):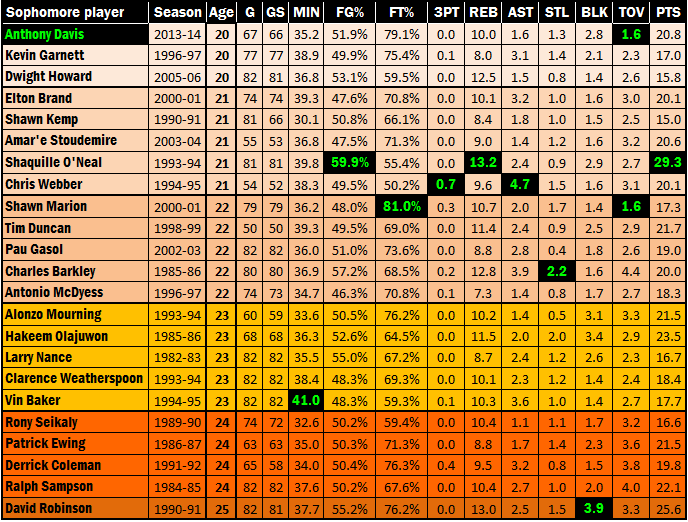 He already has a scoring season better than any Shawn Kemp ever had in his career!
His rebounding average of 10.0 is higher than any season Amar'e Stoudemire has ever put up.
His 2.8 blocks per game last year is a higher mark than any other player on the list, except for Shaq, Duncan, Mourning, Olajuwon, Nance, Ewing and Robinson. Those seven players are all in the NBA top 20 for career blocks.
That is madness.
Factor in his NBA infancy at just 21 years old and we're looking at a player who could potentially put up Hakeem/Admiral numbers in terms of fantasy production across the board. Check some of the lines he put up last year and the company he has with achieving these lip-smacking fantasy lines – including the incredible 6 steals + 6 blocks in one game combo, as well as 40 points + 20 rebounds + just 1 turnover in another game: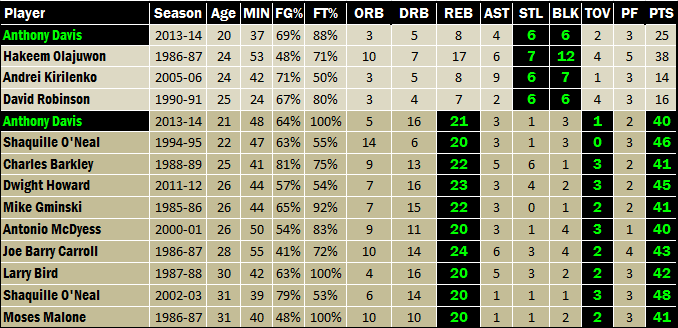 These stats are ridiculous for a guy who was 20 last season. Look at these gems as he also added some insane shooting stats to that game above: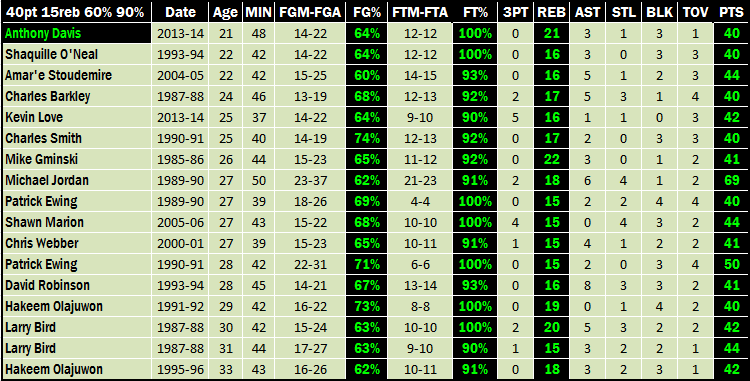 Davis has just one knock to his game – a propensity for picking up niggly injuries, however, with added bulk and newly acquired Omer Asik ready to lock horns with the larger masses in the middle, Davis is now free to play primarily at PF.
You're essentially looking at young Alonzo Mourning in terms of PTS/REB/ASST/FG%/FT%/BLK, with a steal rate nearly three times higher than Zo's. Durant is still a young buck himself at just 26 by the time the season starts, but you could argue Davis' upside on the defensive side of the game alone will make him the top pick in some dynasty leagues this year. You also can't overlook that low TO rate – nearly half of both Kevin Durant and LeBron James last season, nor the improved shooting stroke which has his FT% creeping towards 80%.
An often overlooked tidbit is the 'leap' so many players make when inserted into the dynamic of Team USA. It happened to Russell Westbrook and Kevin Love when they made their meteoric jumps in 2010 – after both immersed themselves in the professionalism of the USA camp under Coach K for the FIBA World Champs. It doesn't happen for all young players (ie Harrison Barnes last year), but don't be surprised if Bradley Beal, Damian Lillard, Klay Thompson, John Wall, Andre Drummond and Gordon Hayward all show big improvements this season due to spending added time with their peers and some truly elite coaches.
Davis is not going to go number one this season, but if KD played fantasy the way he plays in reality, he'd have his customary scowl on while looking at Davis gaining on him in his rear-view mirror.
Over the next few weeks we'll be putting the next nine out, so check back whenever you need a fantasy fix!
All stats from the amazing basketball-reference.com so go there now and feast on the statistical smorgasbord they have on offer!
Follow Sam on Twitter @macetastic and feel free to ask any NBA related questions, whether fantasy or reality.